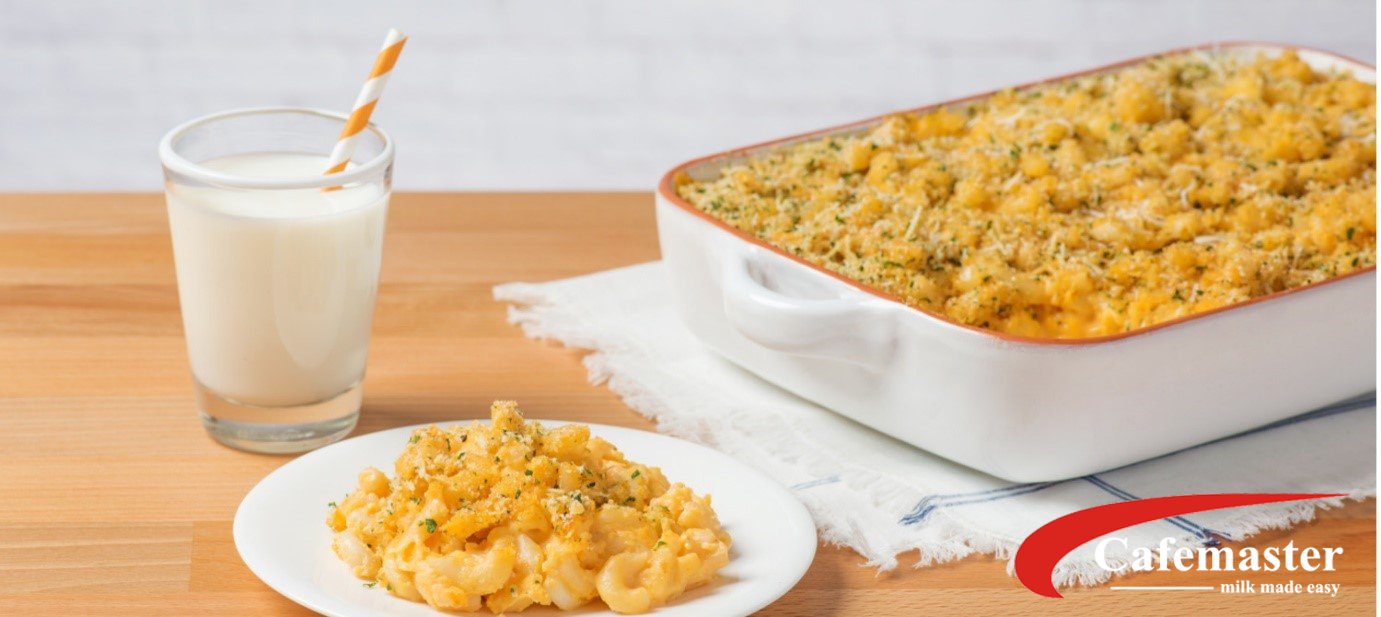 Macaroni Cheese
20 Minutes
30 Minutes
8 to 10 Servings
Ingredients
1 lb (500 g) elbow macaroni
1/3 cup (75 mL) butter
1 small onion, finely chopped
2 cloves garlic, minced
1/4 cup (60 mL) all-purpose flour
4 cups (1 L) milk
1 tbsp (15 mL) Dijon mustard
3/4 tsp (4 mL) salt
1/4 (1 mL) pepper
1/2 tsp (2 mL) hot sauce
Pinch ground nutmeg
1 1/2 cups (375 mL) shredded aged white and orange Canadian Cheddar cheese
1/2 cup (125 mL) Cheddar cheese spread
Topping
1 cup (250 mL) fresh bread crumbs
1/4 cup (60 mL) grated Canadian Parmesan cheese
1/4 cup (60 mL) chopped fresh parsley or chives
2 tbsp (30 mL) melted butter
Instructions
Preheat oven to 400˚F (200˚C). Grease 13- x 9-inch (3.5 L) baking dish. In large pot of boiling salted water, cook macaroni until al dente; drain and set aside.
Meanwhile, in high-sided skillet or large saucepan, melt butter over medium heat; cook onion and garlic for about 5 minutes or until softened and lightly golden. Sprinkle flour over top; cook, stirring constantly, for 1 or 2 minutes. Slowly whisk in milk until smooth; bring to boil.
Reduce heat and cook, stirring frequently, for 5 to 8 minutes or until sauce thickens slightly. Stir in mustard, salt, pepper, hot sauce and nutmeg; remove from heat. Stir in shredded Cheddar cheese and cheese spread; stir in macaroni. Transfer to prepared baking dish.
Topping: Stir together breadcrumbs with Parmesan, parsley or Chives and melted butter.
Sprinkle Topping evenly over macaroni. Bake for about 15 minutes or until golden and bubbly. Let stand for 10 minutes before serving.