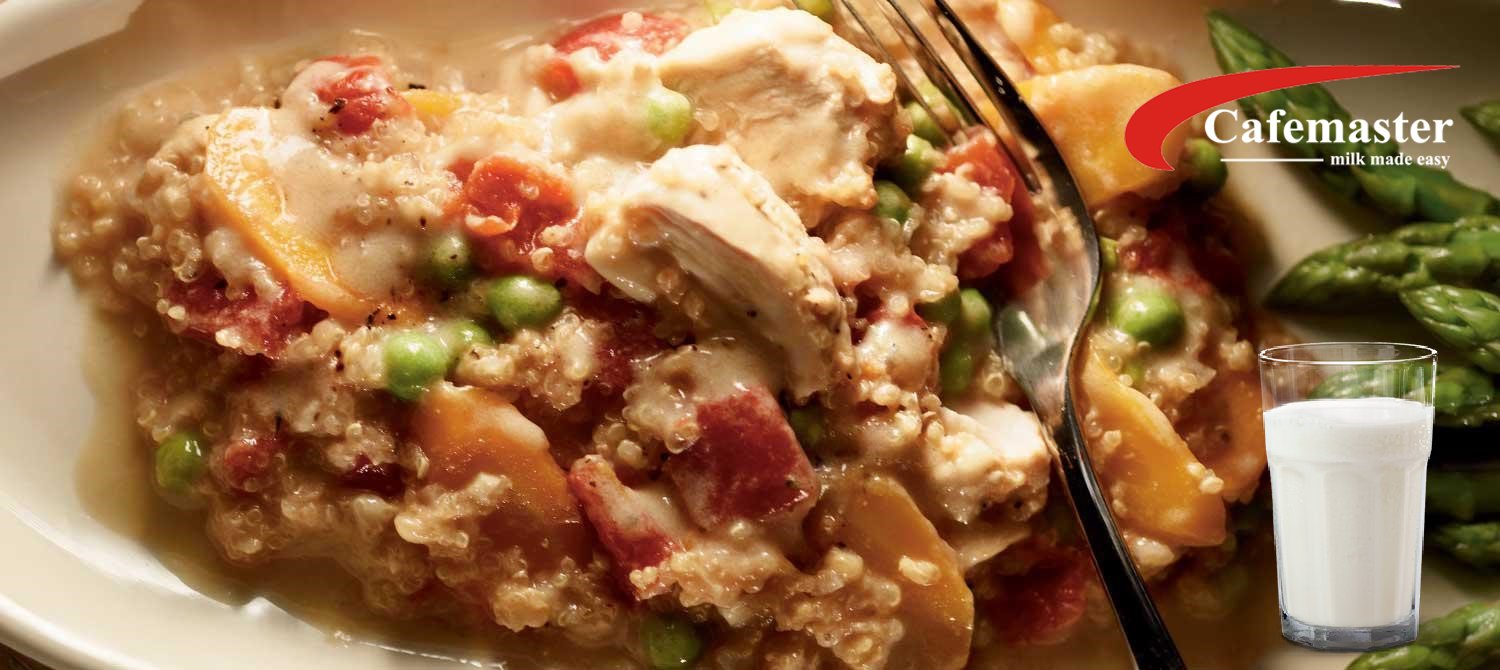 Chicken Quinoa Stew
15 Minutes
30 Minutes
4 Servings
Ingredients
1 tbsp butter
3 thinly sliced carrots
3 cloves of garlic, minced
1 chopped onion
1/2 tsp dried thyme
1/2 tsp dried basil
Salt and pepper
1 lb boneless skinless chicken or turkey, cut into 1 1/2-inch chunks
1 cup quinoa, rinsed
2 tbsp all purpose flour or quinoa flour
2 cups reduced sodium chicken broth
2 cups milk, heated until steaming
1 cup frozen green peas, thawed
1 cup drained canned chopped fresh tomatoes or diced tomatoes
1/4 cup grated Canadian Parmesan cheese
Instructions
In a large pot, melt butter over medium-high heat. Sauté carrots, garlic, onion, thyme, basil, 1/4 tsp (1 mL) each, salt, and pepper for about 5 min or until softened. Add chicken; cook, stirring, for 3 min or until white all over. Stir in quinoa.
Whisk flour into broth and stir into pot; bring to simmer, stirring often. Stir in hot milk. Reduce heat to medium-low, cover and simmer, stirring once, for about 20 min until quinoa is almost tender (reduce heat to low, if necessary, to prevent boiling over).
Stir in peas and tomatoes; simmer, uncovered, stirring often, for 5 min or until chicken is no longer pink inside and quinoa is tender. Stir in half of the Parmesan cheese; season with pepper to taste and up to 1/4 tsp (1 mL) salt. Sprinkle with remaining Parmesan if desired.