Our granulated milk powder is pure real milk. Yes pure liquid cows' milk, that has been pasteurized, skimmed and then freeze dried to extract the water component leaving concentrated milk crystals, with all the nutritional qualities preserved of skim milk.
There are many advantages of skim granulated milk powder, to name a few. It does not clog, can be kept for a very long time at room temperature, its' lighter to transport than liquid milk, and much easier to store and most importantly capturing the real milk taste.
So easy to prepare as required and will dissolve immediately, even in ice cold water, saving you fridge space.
It can be reconstituted with water anytime or can be used dry, most versatile and used in all applications that require milk.
Not only do we Retail, but we are deeply involved professionally with the Hospitality Industry. Next time you enjoy a Latte' or Hot Chocolate from an automatic machine or even barista made , some fresh baked scones, thick creamy soup or something requiring milk it is likely to have been supplied by Cafemaster. Milk made easy.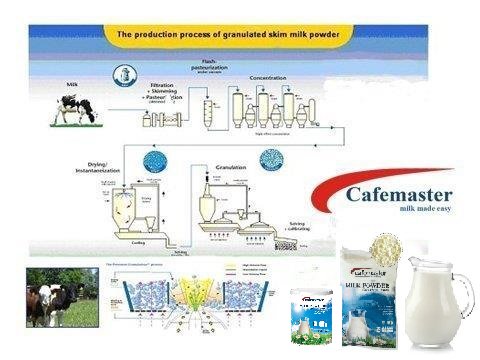 Testimonial
Great grandmother Joyce Lyons was understandably skeptical when trying her first glass of Cafemaster granulated milk.
She had bad memories from when she was forced to drink second-rate powdered milk at school.
How surprised – and absolutely delighted – when she tasted the Cafemaster granulated milk and found it "marvelous".
"Unbelievable" she remarked "To be honest, I was shocked it was so good. I can't wait until it's available at our local store."
Cafemaster milk, which has a best before life of over 12 months, is perfect in many ways – for ordinary households, remote areas and communities, schools, hospitals and nursing homes, workplaces building and construction, and café barista coffee machines.
It's even good for making scones & bread.
The milk crystals dissolve quickly in cold or hot water to make a thick, tasty, creamy milk. It's cheaper than many powdered brands, and, yes, it can be used to make frothy cafe latte and cappuccino.
Cafemaster Limited are suppliers and manufacturers of this bespoke granulated product widely used in catering , hot beverage machines, and more recently retail , also complimented with their drinking chocolate and instant tea.
Advances in technology now enable the capture of all the goodness and flavor of real milk, previously lost in the powder production process. Think of it like freeze fried coffee to instant but at no additional cost.
The milk is ideal for everything, for home, remote isolated regions, camping and trekking even the office coffee machine to the community store, from hotels to restaurants.
A product developed from great experience.